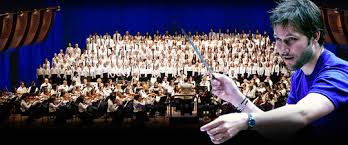 We are delighted that 4th, 5th and 6th classes are taking part in Peace Proms again this year. We have already started learning the songs and the dance moves. The repertoire this year includes songs from Moana, Trolls, Katy Perry, S Club 7, Michael Jackson, John Lennon and the musical Hairspray.
We will travel to Kilkenny early in February for a singing workshop with the conductor, Greg Beardsell. All choir members must have brought in a consent form signed by their parents in order to take part. Unfortunately, if you haven't brought in a signed consent form to Ms Coulter by Friday 22nd September, then you will not be able to come to the workshop.
This is the third year our school has taken part in Peace Proms. There has been wonderful feedback from the children who took part previously, and from parents who attended the concerts. If you have any queries about Peace Proms, please talk to Ms Coulter in school.
Click here for the official Peace Proms website.